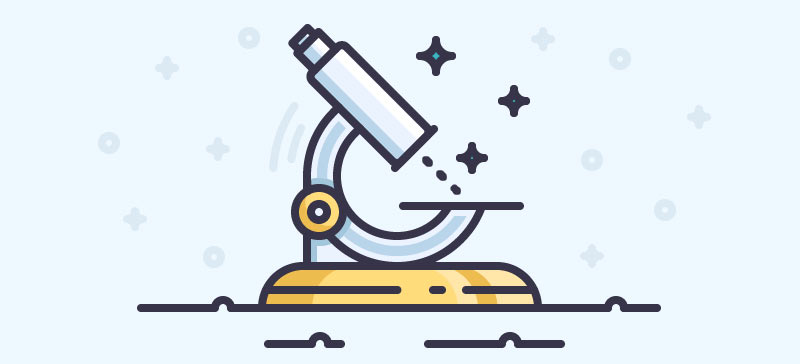 It's easy to check where your website ranks in search engines like Google. There are free online rank checker tools and paid-for rankings checkers which give you a basic idea of where you're ranking for certain keywords. We also offer a Google Rank Checking Service that highlights your key opportunities for quick wins.
Here are several tips to help you navigate SEO tools like Google Search Console and things to bear in mind when tracking your search engine rankings, as well as some tips to help you reach the top of Google.  
How Does Google Rank Websites?
As a leading search engine, Google has a few important goals to reach. It needs to effectively crawl and index as many websites as possible, and return the most relevant results to its users. The aim is to make your web browsing experience as enjoyable and relevant as possible for users.
The importance of keywords
Google looks at a number of ranking signals – more than 200 to be precise – when ranking your website.
They look at your keyword placement, the quality of your content, the number of incoming links your website has, and where the links come from. The more authoritative the link sources are, the better your site will rank. The same with the content, the more valuable it is, the better your site will rank.
This being said, keyword usage is extremely important. By using relevant keywords within your copy, Google and other search engines will know what your content is about and show your website within search results when a user searches for something similar. Keywords therefore should be carefully chosen; not only to describe your products and services, but also your business in general.
The search process:
In a nutshell, when someone searches for something on Google, a few processes happen at once. The aim is to give the user the best possible, relevant results. Here's how search works, in a few basic steps:
A user visits Google and searches for something (product, service, phrase, explanation, etc.)
Google sends out the query to hundreds of machines and different data centres
They look through their data and the websites they have indexed
The results that Google feels best matches the search query will be displayed to the user
Google also tries to show the result with a useful snippet for the user to see the context
This all happens within a half of a second
Google regularly updates their algorithms that take into account a range of different factors. This is one reason why SEO is an ongoing process. Google doesn't share what exactly these algorithms are, but an experienced SEO consultant will know what the most important ones are. They include:
Keyword usage
Site speed
Site structure
Quality of incoming links
Number of incoming links
Quality of content
Time users spend on the website
For more information on how exactly Google works, visit their research page for a collection of publications and helpful information on this search engine giant.
How to Check Your Website Rank
It's easy to check where your website ranks in search engines like Google. There are free online rank checker tools and paid-for rankings checkers which give you a basic idea of where you're ranking for certain keywords. Here are several tips to help you navigate SEO tools like Google Search Console and things to bear in mind when tracking your search engine rankings. 
If you keep a close eye on your website rankings, you'll notice that your site's performance may literally fluctuate from week to week. Small variations within a day is normal, but you may find that your keyword ranking will vary significantly over the course of a month. To get a clear and reliable impression of how your site is performing, you should aim to check your website rankings roughly monthly. To do this you'll need a bulk keyword checker as checking individual keywords is labour-intensive.
What to consider when checking your Google rankings
Personalisation and localisation
Google has many search algorithms to consider, and your results may also vary due to local optimisation and personalisation. Localisation refers to how Google will display different results to users, depending on where they are (geographical location). For example, someone in Australia will see different results when they type "lawyer" than someone in London. Your Google search ranking for this term will, therefore, vary from place to place. Any Google rankings check will need to take this into consideration.
Personalisation refers to how Google displays results to a user depending on their previous searches. Google often knows more about you than you think, which is why it can tailor its search results accordingly. This is especially relevant when you are signed into a service such as your Google, YouTube or Facebook account.
It's for the reasons above that it's more important to know how your website has performed over the course of a month or so, than knowing exactly where you rank at the moment.
Quick Check: Free Website Rank Checkers
Search Engine Genie Rank Checker
A good way to check your website rankings for individual keywords for free is to use this tool. The Google Rank checker can check where your website ranks in any Google, from Google worldwide (google.com) to local Googles, like google.co.uk.
However this is a manual process and you need to check individual keywords, which can be very time-consuming.
SERPs Online Rank Checker
Similar to the tool above, this free online rank checking tool, SERPs, is slightly more sophisticated. You can enter your keyword and select the version of Google or Yahoo that you want (Yahoo is powered by Bing). You can also select whether the search is done on a desktop or mobile device and finally you can also geolocate, by entering in a City, Town or Postcode to emulate a location-based search.
This tool will also give you an estimate of the average monthly search volume for that keyword.
The only issue with this tool, just like other manual tools, is that it takes around a minute for each keyword you want to check. Most websites will have hundreds of keywords that need checking, meaning this manual option is not useful if you want to do the job properly.
Google Search Console: The Best Way to Check Your Website Ranking
While the process below takes a little more time than the website rank checkers above, it is vastly more insightful and much more useful.
You can check your website rankings with the Google Search Console tool.
Start by signing into Google's Search Console. Click on the name of your website and then on Search Traffic > Search Analytics.
If you've not set up Google Search Console, then make it a priority. Once setup it'll take around a fortnight for data to start trickling through. Depending on the size of your website, it'll take up two 3 months for Google to present you with an in-depth coverage of all the keywords you're ranking for.
How to Use Google Search Console
Head to GSC > Search Traffic > Search Analytics
Following the steps above, this is the screen you'll be presented with: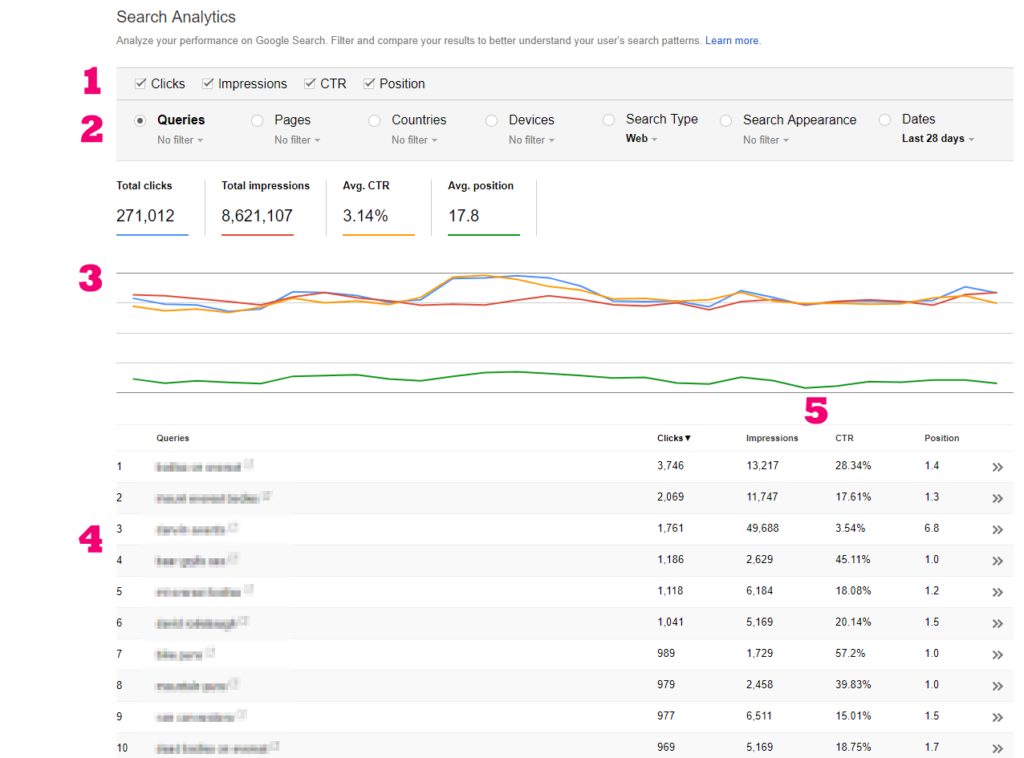 It will only have Clicks selected. Make sure you also tick the Impressions, CTR and Position checkbox.
Google Search Console shows the date as the past 28 days. If you change this, then it will automatically select the Pages radio button, so make sure you re-click Queries
This is a visual representation of the time frame selected and the various metrics: Clicks, Impressions, CTR and Position
This shows you a list of all of the keywords that your website has been surfaced for in Google
This is the area you want to focus on. You can sort by Clicks, Impressions, CTR or position.
A Guide to the metrics in Google Search Console: Search analytics
See the screenshot above – we're going to focus on points 4 and 5.
Queries
These are the keywords and phrases that you're being surfaced for in Google.
Clicks
This is the number of times your website has been clicked by a user in Google for the given keyword or phrase.
Impressions
This is the number of times your website has been shown in Google for the given keyword. Google won't show you the monthly search volume, so it's hard for you to establish how many times you are being shown compared to the average number of monthly searches. Our Organic Search audit will tell you that.
Position
This metric needs to be taken with a pinch of salt. The Position report in Google takes into account a variety of factors. The position depends on what device a user is searching on, their location, previous searches and also the fact that your position in Google will change. To get an accurate idea of your position, our Organic Search Audit (you can read more below) covers this. GSC will report your position up to the 500th position. Surveys have shown that the first result in Google gets around 30% of all clicks, with the result in 10th (bottom of page one) getting around 1% of clicks. So you can easily understand that being in position 20th or below will amount to very few clicks – if any.
How to check your most popular pages in Google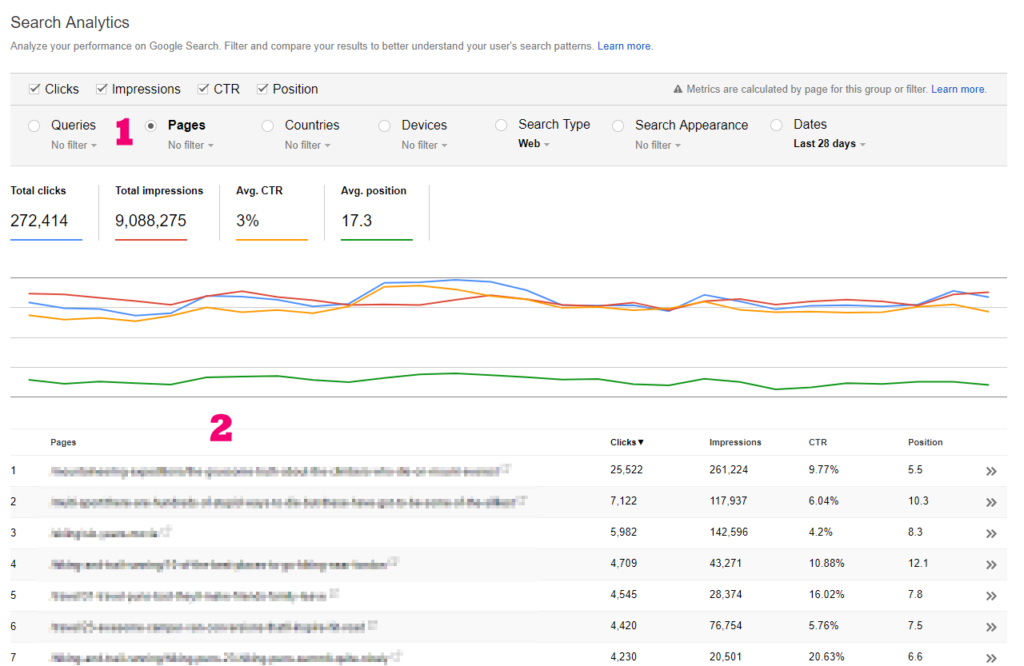 You can also see which of your website's pages are most popular on Google. Just click on the radio-button marked Pages and from here you'll be able to see the pages that have been surfaced the most. This more often than not means the top pages are being surfaced for multiple keywords. If the CTR on these pages and position is low, then you might consider splitting that page up if you feel you can cover all the topics on that page in more detail.
For example, if you have a page on Elephant Facts and you're getting lots of Impressions but not a lot of clicks, then perhaps you could split up that page into African Elephant Facts and Indian Elephant Facts. You're more likely to get surfaced for those two longer-tail keywords and due to the subject of your page, you're more likely to get clicks as your topic will closely match a searcher's needs.
Making the most of Google Search Console
If you sort by Impressions, you'll be able to see which keywords you're being surfaced for the most. You'll probably be way down the rankings for this keyword, with only a few clicks. Therefore your CTR will be low. If you can optimise the page that is being surfaced for this keyword, you will climb up the rankings and improve your CTR and outright clicks.
These statistics are important for any webmaster as you want to determine how your site is performing, where your visitors come from, and how you can improve your website's Google search ranking.
What GSC won't tell you
As useful as Google Search Console is, there are two weak spots, which, if you really want to get accurate website rankings, you'll need to use other software to reveal.
Firstly, Google Search Console won't show you the average monthly search volumes for the keywords. You'll have to use Google Adwords keyword planner or other paid tools like Ahrefs or SEMRush to get an understanding of the number of monthly searches. Our rank checking service will give you this information (see below).
Secondly, the Position information in GSC is not that accurate. It is a useful ballpark figure; you're either near to page one rankings or miles away. In that sense, GSC is fine as a position checker. However, you'll need more advanced tools like Ahrefs, SEMRush or Rank Tracker to get an accurate view of where you might be ranking for different users in different locations on multiple devices.
There is no fixed Google rank
Years ago, where you ranked for a given keyword was pretty-much fixed for anyone typing in the same search term into their local Google. These days, where you rank for a given keyword depends on a variety of factors. The variables are: your location, your previous searches, the device you're using to search and many more.
Despite what any SEO expert or SEO consultant might have promised you – there is no way to get a guaranteed position one ranking in Google or any search engine.
Best paid for website rank checking tools
There are other tools that you can use to check your website rankings and positions within search engines. These tools include SEMRush, and AHREFs which are paid-for popular platforms among SEOs. All of these popular tools will show you where you currently rank in Google, as well as statistics so that you can determine how to improve your website rankings.
The best way to use them is to extract your keywords from Google Search Console and then add them to these tools. You can then monitor your search rankings.
Can You Really Get to the Top of Google?
Every website owner wants one thing: top Google rankings. But is this possible? 
What is the top of Google?
The Top of Google is that highly sought after, first place position in search page rankings. The ultimate in SEO perfection, the top of a Google search results page, is like striking internet gold for many companies. The theory is that anyone searching for the goods or services you offer, will not normally look beyond the first page to find the answer they require. If you have made it to the very top of the first page, you should, in theory, receive a fair chunk of new business from Google alone. Getting there is indeed akin to climbing Mount Everest and takes hard work, some dedicated research and more often than not, a fair chunk of your marketing budget too. To those who have reached the Top Of Google, we salute you.
To get to the top of Google and to stay there you will need to continually work on optimising your website and adapting your SEO strategy to include the latest updates and techniques.
It all starts with having a website that is well-designed and visually appealing to your visitor. Getting your website's taxonomy right will be a huge help. If your website makes logical sense and users can easily navigate, it will count in your favour. Another thing to remember is to always link to your social media pages from your homepage. This will help you to build your brand online and also tell Google to associate your website with those social media pages.
Highly competitive blockbuster keywords – what are they and can I rank for them?
At The Content Works, we have a name for the big keywords our clients want to rank for; we call them blockbusters. Everyone wants to rank in the top spots for these keywords but the reality is – even if you have great content and a well sorted website – they're hard to rank for because the competition is always strong.
Take a keyword like 'garden tools', which in Google.co.uk over the past 12 months has averaged 60,500 monthly searches and has 160,000 competing pages – it's a popular and competitive term and we'd call this a blockbuster.  However, if you expand out on this keyword, you can build a picture of the search landscape around it. The next level (longer-tail) keywords are: garden tools uk, garden tools hire, garden tools for the elderly, garden tools argos.
If you can rank high for these keywords, you'll have a high percentage of targeted visitors clicking to your website.
While ranking for 'garden tools' might look like a great idea and a tick a big box, getting up the rankings with this keyword might generate traffic but won't necessarily bring in targeted traffic. If your business only hires tools, or specialises in tools for the elderly, then you're much better off keeping a focus on the longer-tail keywords and not investing so much time and effort to try and rank for the blockbuster because it will be harder to rank for the blockbuster and as we've shown above, it won't necessarily bring in the visitors you need.
How Rank Well in Google
Go for long-tail keywords
It is possible to get to the top of Google. However, where you rank isn't as important as what you rank for.
Although it's not necessary to focus on these longer-tail keywords or ignore the blockbuster by default, it's highly recommended that you put in a great deal of effort into exploring the search landscape in order to best understand where to focus your efforts. It's a great way to drive visitors to your website for a key phrase that your competitors may be overlooking. Sure, only 390 people a month search for 'garden tools for the elderly' compared to 60,500 for the blockbuster but just imagine 390 people knocking on your door looking to get to know your business and buy your products – that's not to be sniffed at.
You can use a selection of tools to help you find the perfect list of keywords that you should focus on. You can then continually improve and tweak this keyword list until you have the best keywords to focus on.
You can use tools like Google's keyword tool, to help you find information on popular keywords. You can either search for keywords by entering a landing page on your website or one of your competitors' sites, or you can enter a few basic keywords and let Google suggest the rest. You will be able to view the specific search volume for every keyword, as well as the level of competition you may face.
This is also a good indication of which keywords to use for your PPC campaign.
So before you choose just any set of keywords to work with – consider working with an expert SEO consultant that can assess your business, your goals and your industry. This will give you the best possible chance to outrank your competitors and get to the top of Google's search results pages.
Create great content
Having great content on your website is a solid foundation for SEO success. If you cannot create your own content, hire a professional SEO copywriter to craft unique content for your website pages. This content should be optimised for specific keywords – but remember to write naturally for your visitors and not for search engines. You need unique content for each of your webpages.
Google sees valuable content, as pages that are unique and valuable. The company needs to provide useful information to your visitors, and give them what they were searching for in the first place. If you have well-written content to meet these needs, chances are that you will be ranked well within search results. Google can't manually review every content page, so it relies on a set of algorithms to determine a website specific ranking within search results.
Keep in mind that Google ranks individual webpages for specific keywords, rather than an entire website.
This is why it is so important to choose one keyword per content page, and focus only on that topic. Having too many keywords on a page can be confusing and Google will not place as much value on every keyword. Rather choose a single keyword per page.
Staying on top of search results pages is a continual effort, and you should be prepared to spend the time and resources necessary to remain on top. If you do this right, this can significantly boost traffic to your website, and in turn boost your bottom line as well.
Remember, just like gardening; it's all about growth!
Our SEO Consultancy Services
Here at The Content Works, we're experts in all things SEO. We offer bespoke SEO consultancy services to help you gain visibility in search engine rankings and beat your competitors.
Contact us on 0207 305 5599 if you'd like to discuss what an SEO consultant can do for you.