3 Things I like About SE Ranking
Not everyone can afford to use the services of an SEO consultant, I understand that.
There are tens of heavyweight SEO tools out there, many of them used by professional digital marketers and some of them aimed at the 'solopreneur'. The one thing that the majority of these SEO tools have in common is their price, most of them aren't cheap and most of the cheap ones aren't good.
Some SEO tools come with a hefty monthly subscription charge, like SEMRush or AHREFS which cost upwards of £80 per month, putting them out of the reach of 'do it yourself' SEO.
In this article, I'll talk you through three of the features that I like about a relatively new tool, SE Ranking, which has heavyweight features but at a much more affordable price tag.
1. The Price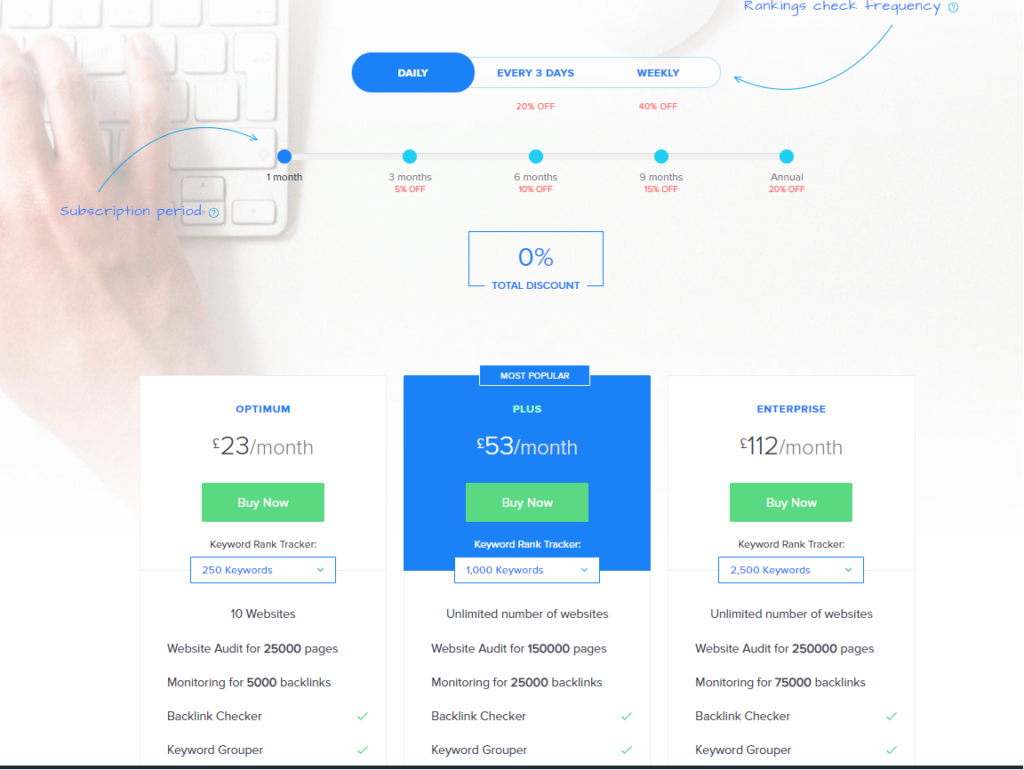 At first glance, the pricing structure of SE Ranking looks slightly complicated – there are lots of options.
If you run your own website you just need their entry-level package, Optimum, which is still feature-packed. Then you need to choose how often you want your keywords to be checked. There are options for daily, every 3 days and weekly. You really don't need to check your keywords daily – for all of our clients, we check theirs once a week.
You can then 'bolt-on' the number of keywords you want to track. You are given 250 but you can upgrade to 500 or 750 with the Optimum package. One of the areas we work on with our clients is getting them to focus on a manageable set of keywords. You might be able to track 1000s of keywords using software but can your brain keep up? We try and get our smaller clients to focus on 10 keywords and the larger ones up to 50. Why? Because each keyword needs a strategy, a piece of content to accompany it and time to think about it, monitor it and take steps to optimise it.
You really won't be able to do this for 750 keywords and you'll struggle to do it with 250.
Finally, you need to choose your pricing structure. For the weekly keyword ranking check, billed monthly, it currently costs £13.80 per month, take out an annual package and it's just £10.80 per month. Compare that to one of the industry's more well-known tools, AHREFS which is £76 per month.
For £10.80 per month, I think to myself: 'If I was starting my own business and my website was an important part of it, could I afford to not use a tool like this?'
2. The Features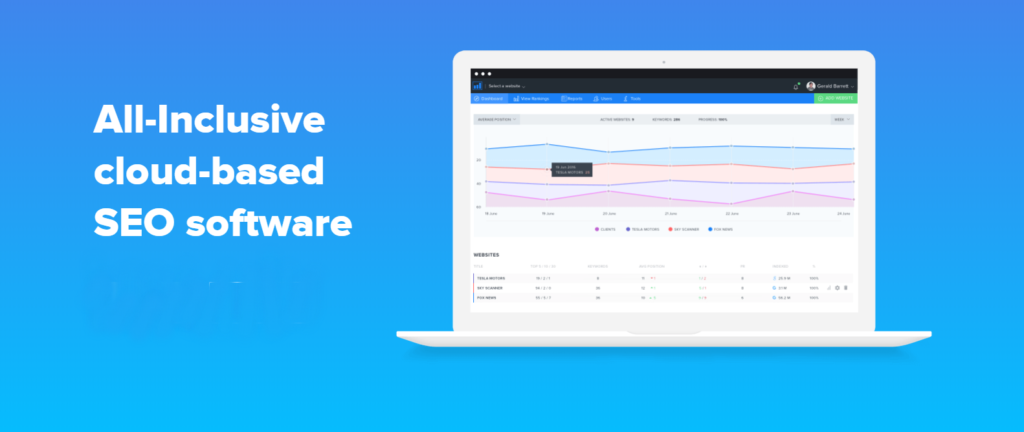 SE Ranking undercuts the main rivals by some margin but it isn't short on features. There are three packages, Optimum, Plus and Enterprise.
The Optimum package allows you to monitor up to 10 websites, which is really generous. The main features include:
Website Auditor – up to 5,000 pages per website, 25,000 pages across all websites
Backlink checking and monitoring – so you know who's linking to you and you can spot dead links
SEO & PPC Competitor Research – it's always good to know what your rivals are doing
On-Page Checker – see what additional optimisation you can do
Emailed reports – it's useful to have these dropped into your inbox on a weekly basis
Social Media Management – connect your social accounts and see the traffic they're driving
To me, the upgraded packages don't offer many more features that a business owner would need but if you're an agency you can white label the reports.
In terms of what you need in your SEO toolbox to quickly understand your website, your priority keywords and your action points, there isn't much else you could ask for.
3. The Ease of Use
Most of the heavyweight SEO tools have a great interface and you'd expect that for the money you have to shell out. The issue I have with most of the cheaper and almost all of the free SEO tools is that their interfaces are horrible – you have to really WANT to use them and even then it's not a great experience.
SE Ranking has a great interface, in fact in my opinion better than what many think is the leading SEO tool.
It's really easy to jump between projects and within each section, you can switch to each of the different functions, from checking your rankings, to seeing your traffic.
One of the best features about SE Ranking is the fact you don't need to even log in to the tool once you've got it set up. I'm emailed weekly banking and ranking reports, which give me a quick snapshot of what the uplift is for our clients. If I want to get more data, I can just dive back into the tool.
In Summary
Here at The Content Works, we're SEO and Website Auditing specialists – we really believe in the power of the web. It's almost painful to see a business owner who doesn't understand anything about what's happening on their website or the opportunities available to them. Most of the time, I put this down to the fact that it can be complicated to get hold of the data and then interpret it. Most business owners just don't have the time.
The heavyweight tools are not only expensive but they require a lot of time and effort to learn so that you can properly set them up and use them in the way they're intended. That alone puts off most small businesses and rightly so.
SE Ranking changes this. It's easy to set up, cheap to run but it provides genuinely useful data that doesn't require hours of time or an SEO expert to interpret. Understand the key metrics on your website, know where you can improve and get going. There's no silver bullet when it comes to SEO but SE Ranking helps you take small actionable steps towards improving your website and driving more sales.